If you support what we're doing and want to help, please donate to the NAACP Legal Defense and Education Fund or buy a shirt here:

You came here for the shirts.  You came here to make your stance on racism known.  You recognize your opportunity to help in some small way.
Limited Run Shirts
Shirts are being sold and drop-shipped directly from Custom Ink.  Proceeds are directly donated to the Trans Justice Project (Tides Foundation) by Custom Ink on our behalf.  Each week, we'll post a new Custom Ink fundraiser to minimize wait times.
The first 4 runs have presented several options for shirts.  All are by Next Level Apparel.  We will add options each week.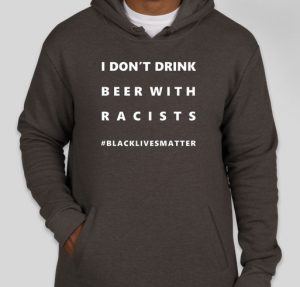 Prices reflect roughly a $15 markup against Custom Ink's base price for charitable contributions.
WEEK 1 FUNDRAISER – (6/28/20 through 7/5/20): $2,736.91 RAISED!
WEEK 2 FUNDRAISER – (7/6/20 through 7/12/20): $441.34!
WEEK 3 FUNDRAISER – (7/22/20 through 7/29/20): $366.05
WEEK 4 FUNDRAISER – (7/30/20 through 8/06/20): $96.32
WEEK 5 FUNDRAISER – (8/12/20 through 8/19/20): Live Now!